As Day 2 of the 2022 draft begins with the Colts finally getting on the board today, the consensus amongst Colts fans is "WR or Bust" in Round 2 of the draft. After all, the Colts desperately need more passing weapons beyond Michael Pittman Jr out wide. However, this mindset might not be the most reasonable, as Chris Ballard has been known to shock fans with draft picks over the years. Therefore we should look back on the drafts of the past and examine the most shocking picks during Ballard's tenure, how they surprised us, and how the picks turned out
.
8. Parris Campbell
Parris Campbell's pick surprised myself and fans not because of what position they picked but who else was left on the board at that position. While I liked Parris Campbell as a "YAC God," his underdeveloped route tree from college (a lot of shallow, short routes) was a concern for his route running development. DK Metcalf presented a similarly underdeveloped route tree but more of a vertical than Horizontal threat, but the WR that I was expecting was Parris' teammate Terry McLaurin.
McLaurin was a similar size and speed (only 0.01 seconds slower on the 40) but with a more developed route tree and crisp route running at all three levels. He was a natural deep ballplayer with reliable hands as well. Naturally, I and the consensus amongst the draft community had him ranked higher than Parris. Campbell's upside as a Yards After the Catch fiend is immense, but sadly what many didn't anticipate after a fully healthy collegiate career was the sudden and rotten luck of injuries Parris has endured as a pro. The pick is still shocking, but the hope is Campbell will finally be healthy for 2022 and be able to finally live up to the potential he has.
8. Braden Smith
While the Colts headed into the 2018 Draft desperate to improve their disastrously bad pass protecting Offensive Line for their ailing QB, the Braden Smith pick was a surprise. The Colts had already selected star Notre Dame Guard Quenton Nelson had already massively improved the LG spot, but the Colts still needed more to complete the OL on the right side. Most expected the Colts to select an RT at some point, but the Colts chose Auburn's Braden Smith, a collegiate Guard. And later, the team announced the plan: turn Braden Smith into their Right Tackle.
At the time of the pick, this was puzzling. Smith certainly had the necessary height at 6'6. Still, he had some of the shortest arms in the class, especially if considered a Tackle, and no prior collegiate experience as a tackle. They addressed the right side of the OL need with a player that I liked but not in the role that many envisioned. Honestly, it seemed like a square peg and round hole scenario.
Four years into his career, Braden Smith has done more to erase my doubts and then some. As a 4-year starter at RT, Smith has become one of the strongest road-grading RTs and become a good pass protector. He rightfully earned his generous extension, and the Colts locked down their right tackle spot for years after the pick.
6. Dayo Odeyingbo
I tend to be injury adverse on Day 1 & 2 of the draft. While they are random occurrences that can happen at any time, and sports medicine has advanced by leaps and bounds, sometimes the risks are too big in my mind. They cause me to lower talented players on my board; this was the case for Dayo.
Dayo's film was phenomenal at Vanderbilt, and his athletic traits and versatility showed the chance for him to be a special player. However, a late-season Achilles injury worried me a lot. Who knew how that would affect his explosiveness and how available he would be? Colts certainly have better access to his medicals. Still, with another pass rusher already taken in Kwity Paye earlier & some other needs (and players I ranked higher once factoring Dayo's injury), I was surprised by the pick. However, it did make sense considering the Colts' prior draft picks of players who dealt with injury leading up to the draft and had success immediately despite them.

5. Julian Blackmon
Another surprise pick coming off of an injury, this one was particularly interesting to me. Beyond the injury concerns lowering him to be an early Day 3 player on my board, there were also the circumstances of the Colts' safeties already on the roster. On the one hand, they already had two starting-caliber safeties, with the rangy Malik Hooker and the reliable Khari Willis coming off of his rookie season. On the other hand, Hooker was coming off of multiple injury-plagued seasons, and depth was certainly needed at Free Safety.
While I understood the forward-thinking approach in addressing the depth at that need, I questioned adding an FS coming off of a major collegiate knee injury to provide depth to an FS coming off of several injuries. Hooker, unfortunately, suffered a season-ending Achilles injury; Blackmon stepped in much earlier than expected with his recovery time and looked very good in his rookie year. Sadly injuries hit him with an Achilles injury of his own in 2021, but the jury is still out on him, and he has had a lot of rehab time for the 2022 season since the injury occurred. Should Blackmon be healthy, he is a great difference-maker in the secondary.
4. Jonathan Taylor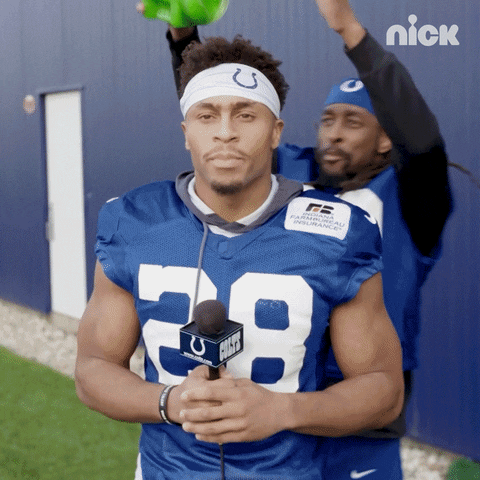 Jonathan Taylor was my RB1 of the 2020 draft class and one who I thought could break into the end of the 1st round. He was the safest RB in this class, and I felt he had a Pro Bowl level ceiling (which he has already exceeded this expectation). Now that I've established that I loved JT as a player, I have to say this: I was shocked & had mixed feelings about this pick. With Marlon Mack coming off of 2 really good seasons, Nyhiem Hines already establishing himself as one of the best change of pace and pass-catching backs in the NFL, and Jordan Wilkins leading the NFL in yards per attempt in his limited Carries, RB was very low on the totem pole of Colts needs in this draft.
I had JT as my best available player but speculated at different positions. Laviska Shenault or Chase Claypool were still on the board at WR if we wanted to double-dip at WR after picking Michael Pittman Jr earlier in the 2nd round. While Safety wasn't the top need either, I was also a fan of Grant Delpit or Antoine Winfield Jr. for the Colts to provide depth behind Hooker due to his injuries. Cole Kmet was also an option to be an eventual Jack Doyle and help replace Ebron in the Colts' offense. My favorite CB of the class for the Colts' style of D was Jaylon Johnson, and with Rock not yet breaking out & trusting an older Xavier Rhodes coming off of some rough seasons, I thought he would be an excellent fit.
All these players would have addressed more pressing and high-priority needs at the time, & while several of these players have become good NFL players, none have become All-Pros like Taylor. With Taylor becoming one of the most dominant offensive weapons since the middle of the 2020 season, it's safe to say Ballard nailed this pick out of the park, regardless of positional need.
3. Michael Strachan
I like to think I'm pretty well informed on a draft class come draft time. By the time the Draft rolls around, I feel confident in knowing the players' skillsets, athleticism, and traits/personalities in any given draft class up until round 6 or so. If surprising players out of left field that I have never heard get picked, it's usually in the final two rounds. That was exactly what Michael Strachan was.
Even most draft analysts would be forgiven for not knowing much, if anything, about him. A small school WR out of Charleston, who didn't even play a single game due to COVID in the season leading up to the Draft, it was safe to say he was a deep dive unknown in this class. Upon learning more about Strachan, from his sheer size and athleticism to even how to pronounce his last name (it is NOT straw-chan like I initially thought), I got to like the pick more for a developmental WR. But on draft day, when the pick was announced, it was a rare pick that made me and several others in the Colts community go:
2. EJ Speed
Another shocking pick that made me need to research a lot post-draft to get a feel for who he was as a player, this one was perhaps even more of a shock due to it being earlier on Day 3. EJ Speed was completely unknown to me out of Tarleton State, a college I didn't know existed before the pick.
While EJ has emerged as a strong Special Teams contributor and a good depth LB behind Darius Leonard. Speed hasn't gotten the opportunity to get into a major role on the defense yet. His interesting athletic profile, his small school origins creating a bit of an unknown intrigue, and his reliable special teams play combined with his awesome name have made him a fan favorite. A solid pick in the 5th round so far, but I will never forget the draft day shock of that pick.
1. Darius Leonard
The most surprising pick of Ballard's career as GM for the Colts very well might be his best. Heading into his 2nd year with now a new Head Coach and new Defensive scheme, there were many unknowns on what Ballard would prioritize besides the obvious OL need.
Many players were possible with this pick. Maybe add another Tight End like Gesicki or Goedert to pair with reclamation project Ebron? Or add more passing weapons like Sutton, Chark, or Kirk? Perhaps add pass rush help to Eberflus's low blitz scheme with Harold Landry? If they weren't confident in Anthony Walker stepping into a bigger role in a new scheme, I could see them going for my top off-ball LB on the board, Fred Warner. Maybe go all in the offensive line rebuild with my top Tackle left in Conner Williams? Or form a lethal safety duo of Malik Hooker with Jessie Bates III due to Clayton Geathers' injuries? With all those options on the board, it was safe to say I never saw the Colts going for a small school Weakside Linebacker who got injured at the Combine during his 40-yard dash & I had a round 3-4 grade on.
This pick was the one that humbled the rest of the draft community and me to say that Ballard knows exactly what he is doing in the draft. A crowning achievement of a pick, Darius Leonard instantly transformed the Colts' defense and turned himself into one of the greatest defenders in the NFL today. From being dubbed "The Worst Pick in the Draft" in the infamous Bleacher Report article to being a Defensive Rookie of the Year, 4x All-Pro (3x 1st Team), Chris Ballard and Darius Leonard have made us all take a bite of humble pie on our draft day takes. 
My advice to Colts fans, regardless of who the Colts take: it's perfectly fine to analyze and set expectations for draft picks. But just because Ballard doesn't meet those expectations in terms of where and how he addresses the needs doesn't mean he doesn't have a plan or won't try to solve it at some point. Ultimately we can think critically about the Draft picks, but as Ballard's track record has proven, we should #TrustTheBinder.
Thanks for visiting The Blue Stable. You can join the conversation on Twitter at @TheBlue_Stable.